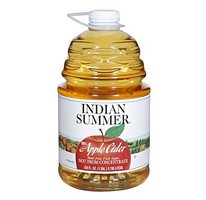 When apple cider is four bucks a gallon or under, I buy it. We love apple cider all year long. Good stuff.
The other day I was filling a Click and Pull shopping cart at Samsclub.com. Now Click and Pull is a great idea. You fill a shopping cart, place the order, and then the next day you pull your car up to the front door of the warehouse and they have it all waiting for you, ready to load, thus saving you shopping time time and helping you avoid impulse buys. They had
Indian Summer apple cider, packs of 4 gallons, for $14.66
. A good price. But then I realized it was not for pickup, it was for delivery.
And delivery was included.
I didn't figure that could be right, but it was. I placed the order, and a few days later FedEx delivered a very heavy (38 pounds shipping weight) box containing 4 gallons of apple cider. I actually paid $15.69 for it (for some reason they charged sales tax, which I don't think was right). I imagine shipping that 38-pound box took at least $15 of that. I don't know how they did this, and I bet it won't last long, but what a deal it was. I think I may order more.
By the way, a couple of months ago Wal-Mart had what looked like gallon jugs of apple cider (or maybe it was apple juice) for under $4 - probably $3.67 or something like that. I was happy about that until I realized that it may have looked like a gallon jug, but it wasn't, it was a 3 quart jug. Sneaky. But these from Sam's are definitely full gallons.
Also Indian Summer's juices are all
made from fruit grown in the USA
. The Wal-Mart stuff, we noticed when we returned home, came from China. Hmmm. Maybe it's fine, but it raises my hackles none the less.
LATER:
I really wondered about the sales tax (especially since I went back and ordered more and it added up to a bigger expense). I wrote to Sam's Club and asked about it and the response was, "
Please be advised that all online orders that are being delivered are taxed."
That did NOT sound right. So I wrote to the tax offices at Iowa.gov. And I received the fastest response EVER in the history of government email service. Seriously. In fact I got two responses, one a very quick one with a link to a PDF to use to request a refund of the tax paid (!), and then a second a few minutes later with a little more discussion and the link again. I'm completely amazed. Astounded. Yet another reason to love Iowa.
So anyway, if you live in Iowa, and you are charged sales tax on something you shouldn't be, all you have to do is fill out this form and send it in with your receipts and you get the tax refunded. Is that cool, or is that cool? They ask that you save them up and send them in once a quarter. I can do that.